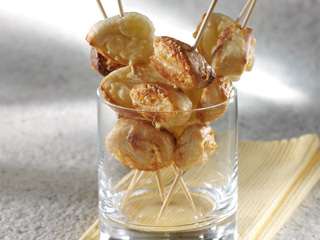 Method
Preheat the oven to 180 °C.
Sprinkle the grated Parmesan cheese over the first sheet of puff pastry, fold it in half and cut into strips.
Repeat with the second sheet and the young cheese and then with the third sheet and the paprika powder.
Put the strips on a baking tray and bake them for 7 to 8 minutes in the preheated oven, then allow cooling down.
Put on skewers by two or three and arrange these in a glass.
Serve with a well chilled Lindemans Pêche.