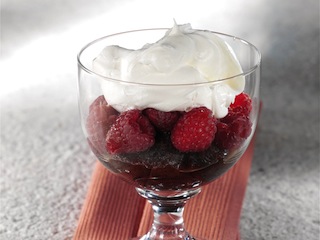 Method
Preheat the oven to 180 °C.
Melt the butter and the plain chocolate au bain-marie and stir in the cream.
Beat the eggs lightly with the sugar and fold them into the chocolate cream.
Then stir in the flower, the salt and the cacao powder.
Grate the white and milk chocolate and add to the batter.
Bake the brownie for approximately 30 minutes in the preheated oven.
Meantime, reduce the Lindemans Framboise by half and let this cool down at room temperature.
Beat one egg white until very stiff peaks form.
Beat the mascarpone, egg yolk and sugar until smooth and fold in the beaten egg white.
Cut the cake into pieces and divide between four glasses.
Pour the reduced beer over it and arrange some raspberries on top.
Finish off with the mascarpone mousse.