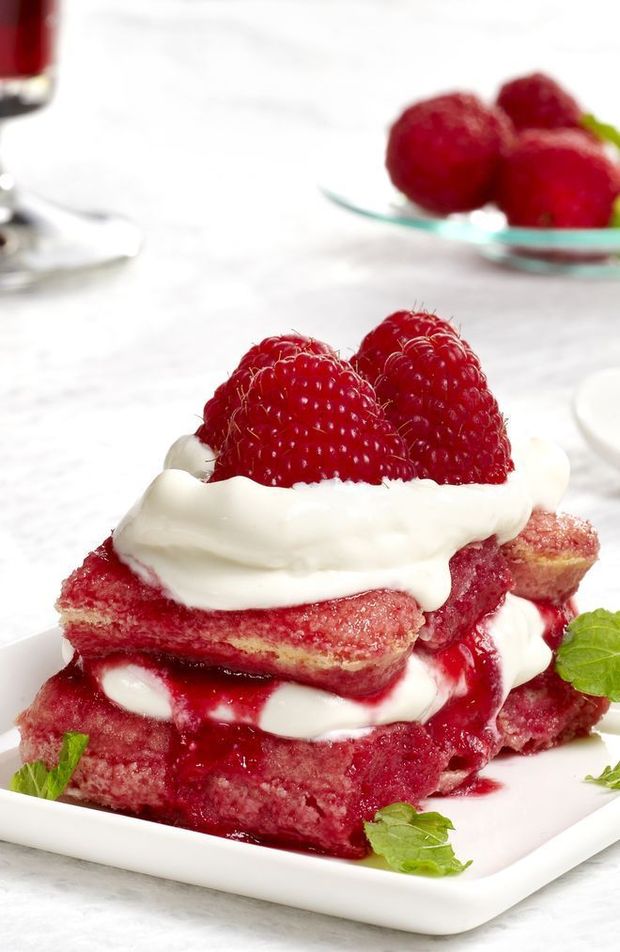 Method
Break the eggs, separating the whites from the yolks. Whisk the yolks with sugar until it becomes foamy. Break the chocolate into pieces. Keep a piece to make flakes from it. Let the pieces of chocolate melt in a bit of milk. Add the mascarpone and blend it together. Add the yolks and beat until well combined.
Beat the egg whites until stiff and fold them carefully into the mascarpone mixture.
Add the raspberry coulis to the Lindemans Framboise in a deep plate. Dip the ladyfingers in the coulis and arrange them in a layer on a plate. Lay a few raspberries on the ladyfingers layer and add a layer of mascarpone mixture. Repeat until nothing is left, but be sure to end with a layer of mascarpone mixture.
Let the tiramisu stand at least 4 hours in the fridge. Take the tiramisu out of the fridge shortly before serving.
Top it with raspberries, white chocolate flakes, roasted almond flakes and fresh mint leaves if available. Serve with a glass of Lindemans Framboise.
Recipe found in Karl Van Malderen's book 'Bapas' (Manteau Publishing)