Brewery News
14.09.2022
Lindemans Takes Gold with Oude Gueuze Cuvée René at European Beer Star 2022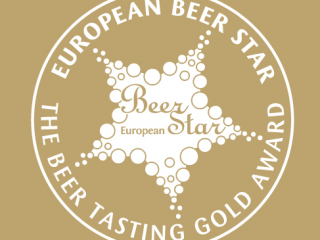 München/Vlezenbeek, 15th September 2022
Yesterday, the European Beer Star Competition winners were announced in Munich. In the 'Belgian-Style Oude Lambic & Oude Geuze' category, the Oude Gueuze Cuvée René from the Lindemans brewery won the gold medal. The family brewery, celebrating its bicentennial this year, will soon have to purchase a larger trophy cabinet. The current one is already getting full. Last month, the lambic producer won 14 awards at the World Beer Awards 2022 in London. Also on that occasion, the Lindemans Oude Gueuze Cuvée René was voted 'Best Oude Gueuze in the World'.
The European Beer Star has become one of the world's most important beer contests. The 140-member jury consists of brewers, beer journalists, ciceroni, and other experts worldwide. They judged the quality of the submitted beers on their appearance, aroma, taste, and category-specific characteristics.
This year, 2168 beers from 40 countries in 73 categories competed for one of the coveted European Beer Star awards. Each brewery was allowed to submit a maximum of one beer per category. Gold, silver, or bronze is awarded to the three best beers in each category.
CEO Dirk Lindemans was thrilled when he heard the good news: "Two top awards in barely two months for our Oude Gueuze Cuvée René is the confirmation of the excellent quality of one of our flagship beers. Our family has been brewing lambic since 1822. We use this beer to make our Oude Gueuze Cuvée René, a blend that connoisseurs worldwide appreciate for its complexity and food pairing qualities."
His cousin Geert Lindemans added: "Currently, we have more than 86,500 hectoliters of lambic maturing, of which about 70,000 hectoliters in Vlezenbeek. The rest is stored in our brand-new building in nearby Ruisbroek. As soon as the renovation of the historic site in Vlezenbeek has been completed, we will purchase additional large wooden casks to produce Oude Gueuze Cuvée René and other high-quality lambic beers."