Brewery News
23.11.2022
Lindemans wins gold and bronze at Brussels Beer Challenge 2022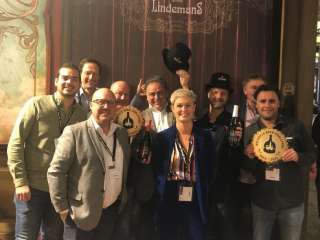 The winners of the Brussels Beer Challenge 2022 were announced at the Horeca Expo trade fair in Ghent, Belgium. This marks the third time this year that Lindemans Brewery, also celebrating its bicentennial, has received recognition at a renowned international beer competition. In the Brussels Beer Challenge 2022 competition, Lindemans Faro-Lambic was named the very best in the category of 'specialty beers of less than 7% alcohol'. Lindemans Oude Kriek Cuvée René was awarded a bronze medal in the Fruit Lambic category. As a result, Lindemans has won a total of 17 awards in 2022.
CEOs Geert and Dirk Lindemans were present at the award ceremony in Ghent. According to Dirk: "2022 is a special year for our family brewery. This year we are celebrating two hundred years of brewery history and inaugurated a brand-new brewery. In total, more than 86,500 hectoliters of lambic are maturing. Soon, we will also launch new mixed fermentation beers."
From Geert Lindemans: "We are thrilled to have won gold and bronze at the Brussels Beer Challenge. The number of awards we have won this year is truly phenomenal. It has been proven repeatedly that our beers can effortlessly compete with the best in the world, thanks to the tireless efforts of all our employees."
The gold medalist Lindemans Faro-Lambic is an amber-coloured beer with a steadfast, white head. In terms of aroma, one perceives the sweet nuances of candy sugar and dried fruits. The taste is temptingly sweet with a subtly sour aftertaste.
Lindemans Oude Kriek Cuvée René is a traditional Oude Kriek based on Schaerbeek cherries, which provide its bright red color and fine, pink head. This beer has an intense, pleasant aroma with nuances of cherries and almonds. The taste is dry and complex, with a soft fruity start of cherries and almonds, which is nicely balanced with the fresh, sour, long aftertaste.
An impressive track record in 2022
This year, Lindemans has delivered an outstanding award performance. The brewery won gold with the Lindemans Oude Gueuze Cuvée René at the European Beer Star Competition. At the World Beer Awards 2022 in London, Lindemans won no fewer than 14 medals. Lindemans Oude Gueuze Cuvée René was rewarded the gold, the national title and the title of 'Best Gueuze in the world'. Lindemans BlossomGueuze, Oude Kriek Cuvée René, Goyck and Lindemans Strawberry were all awarded a gold medal and declared 'Country Winners' as well. Lindemans Oude Kriek Cuvée René was awarded the title of 'Best Kriek in the world', and Lindemans Strawberry was named 'Best Fruit Lambic in the world'.
The first edition of the Brussels Beer Challenge was organized in 2012 in Brussels. Relatively quickly, this contest grew into one of the world's most important and prestigious beer competitions. This year more than 1800 beers were entered. They were divided into 87 categories based on style, origin, and specificity. The international jury, consisting of 85 experts, awarded the best beers in each category with a gold, silver or bronze award.