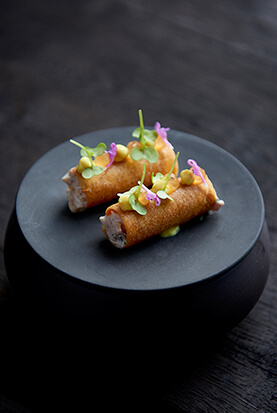 Method
Bras pork
Preparation
Clean the fillet of pork and place in a sous-vide cooker at 67°C until done. Grill for a short time in a ceramic grill such as the Big Green Egg. Then caramelise in a frying pan with the basic caramel. Carve as desired and mix with caramel and mascarpone.
Basic caramel
Preparation
Sweat the vegetables and add the thyme and garlic. Moisten with the Pecheresse. Boil until reduced to caramel.
Savora cream
Preparation
Mix all of the ingredients in a Thermomix (a food processor which also cooks), heat for 5 minutes at 80°C and cool down.
Gel of Pecheresse
Preparation
Mix the ingredients, heat until 80°C and cool down. Blend into a smooth gel.
Croquant
Preparation
Shape the filo pastry into rolls, baste with the oil and bake in a 170°C oven until golden brown.