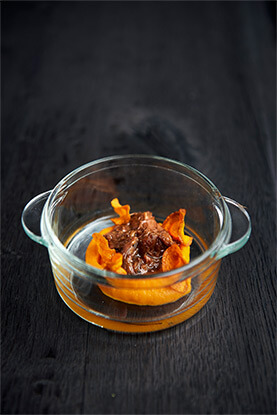 Method
Confit of oxtail
Preparation
Slice the oxtail, sprinkle with pepper and salt, coat in our and fry on all sides in butter and olive oil. Add the nely diced onions and one carrot as a brunoise, thicken and deglaze with the beer, the veal jus and the poultry stock. Add the sugar and simmer for at least three hours.
Mousseline of carrot
Preparation
Peel and dice the remaining carrots. Fry an onion and a clove of garlic in the butter. Add the carrots, ginger, thyme and bay leaves as a nely diced brunoise. Sprinkle with pepper, salt and a pinch of sugar. Add a dash of poultry stock, cover and simmer for 40 minutes. Drain and blend in the food processor. Check the seasoning. Drain the meat, de-bone and allow to cool. Remove the fat from the sauce and check seasoning and sugar. Place the meat in the sauce and allow to con t slightly.