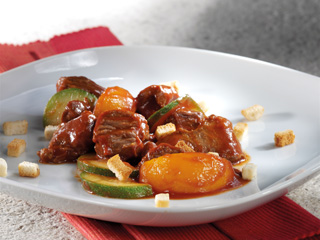 Method
Heat the oil and brown the pork on all sides.
Peel and finely cut the onions and add them with the parsley to the meat.
Season with salt and pepper and pour in the bottle of Lindemans Pecheresse.
Let everything simmer for 35 minutes over low heat. If the dish becomes too dry, add some more Lindemans Pecheresse.
Stir in the tomato purée.
Cut the courgette into slices and the peaches into bite sized pieces.
Add them to the stewing meat and let everything simmer for another 15 minutes.
Serve nice and hot.