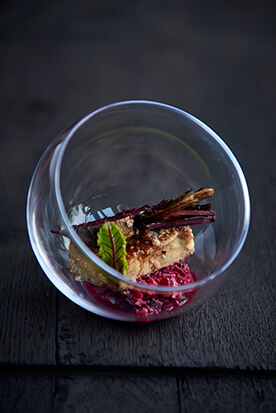 Method
Pan-fry the goose liver, season and glaze with the birch syrup. Add a sprinkling of hazelnuts and cocoa nibs. Bake o in the oven.
Rhubarb/beetroot
Preparation
Briefly fry the rhubarb and beetroot until al dente. Season with pepper and salt.
Baked beetroot
Preparation
Bake off the beetroots in the oven at 180°C. Afterwards, cut into halves and season with the fruit pepper and fleur de sel.
Vinaigrette with Old Kriek Cuvée René
Preparation
Mix all the ingredients and season with pepper and salt.