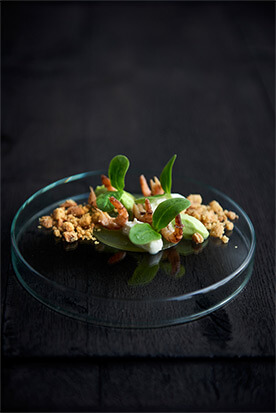 Method
Jelly
Preparation
Mix the ingredients, bring to the boil, cool down and allow to rest in the fridge.
Guacamole
Preparation
Mix all of the ingredients, check the seasoning and ll a piping bag.
Cream of horseradish
Preparation
Whisk the ingredients into a thick mass and ll a piping bag.
Mix the our, the almond powder and the peanuts. Cube the softened butter before adding it too. Bake for eight minutes at 180°C. Check the seasoning after baking.