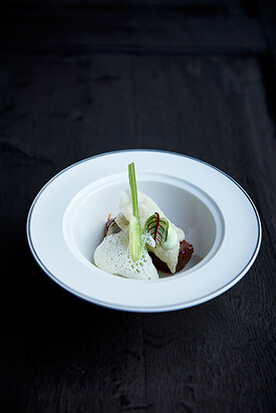 Method
Pluma pork
Preparation
Bake the meat for 25 minutes at 63°C, then pan-fry brie y and glaze with the miso. Vacuum poach the oyster in its juice with 1 leaf of ka r lime for 5 minutes at 52°C.
Miso
Preparation
Add to a sauté pan and blend on a low heat
Salad of fennel
Preparation
Prepare a salad of fennel, mint and coriander and season with lemon, oil, pepper and salt.
Miso mayonnaise
Preparation
Prepare a basic mayonnaise with two tablespoons of miso.
Coriander mayonnaise
Preparation
Blend a basic mayonnaise with a bunch of fresh coriander.
Sauce
Preparation
Thicken the oyster jus with a dash of gin and white wine and add cream.
Garnish
Preparation
Blanch a small fennel bulb and sweat in butter.