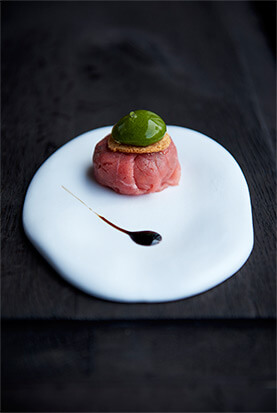 Method
Sauce tartare
Preparation
Prepare the sauce as you would for a mayonnaise.
Basil bubbles (makes 6)
Preparation
Immerse the basil leaves in boiling water for 5 seconds, cool down. Blend the various ingredients, season to taste, shape into half balls and place in freezer.
Vegetable jelly
Preparation
Mix the vegetable setting powder with the water and boil for 5 minutes. Blanch the basil for 5 seconds. Cool down. Mix with 2 ice cubes and the other ingredients, place in a half-ball shape mould on the baking mat and freeze. To use: remove from mould, steep twice in the vegetable jelly and allow to rest at room temperature.
Garnish
Preparation
Mix the tartare with the sauce, the parmesan and the brunoise of basil (a very ne dice) and season to taste. Arrange the tartare on a slice of let d'Anvers. Form a round, 5cm shape with a cutter. Place the garnish on the round Melba toast and nish by placing the basil ball on the top.