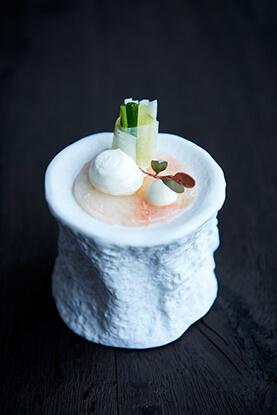 Method
​Tartare of langoustine
Peel one langoustine per person. Flatten the meat with a whisk. Place in the freezer. Shape with a cutter.
Cannelloni of leek
Preparation
Cut the leek into ne strips, poach, then sprinkle with pepper and salt. Prepare a julienne with the cut and peeled apples, daikon and chives and roll out.
Yoghurt
Preparation
Let 100g yoghurt rest for 24 hours, mix with the lemon zest.
Basil mayonnaise
Preparation
Prepare a mayonnaise and mix with the leaves from a bunch of basil.
Basil oil
Preparation
Infuse a bunch of basil for 3 hours in 200ml olive oil at 52°C.