Brewery News
25.04.2022
Lindemans Brewery celebrates 200th anniversary with Limited Edition Oude Gueuze Anniversary Blend 2022 "Cuvée Francisca"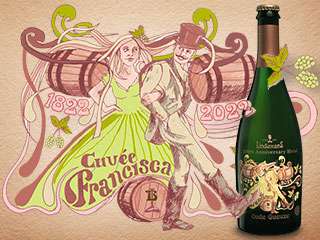 In 1822, brewer's daughter Francisca Josina Vandersmissen married Joos Frans Lindemans. With this union, the Lindemans family of farmers entered the beer world and began to make brewing history. Francisca and Joos Frans settled in Hof ter Kwadewegen in Vlezenbeek, Belgium – the same place where the brewery still brews lambic 200 years later. Today, cousins Dirk and Geert Lindemans, the sixth generation of the Lindemans family, are at the helm. As a tribute to the founders of their now internationally recognised brewery, they have announced the release of a special, limited-edition beer: Oude Gueuze Anniversary Blend 2022 "Cuvée Francisca".
Cuvée Francisca is a blend of 4-year-old lambic from the oak casks T1001 (20%), T1006 (35%), T1017 (35%) and 10% young lambic from T1014. The entire blend was then allowed to ferment for another 12 months in the bottle before it was ready to be shared with the public.
This Oude Gueuze has an 8% ABV and a golden blond color, combining flavors of oak, citrus and notes of vanilla with a pleasing sherry aroma and a refreshing sourness. It is a dry, complex and beautifully balanced Oude Gueuze perfect for enthusiasts and those new to the style alike.
This anniversary beer is commercially available in 750 ml bottles with a striking design. A total of 25,000 bottles were filled and shipped to five different continents across the globe. It is expected that this special edition will sell out quickly due to its limited supply. The brewery has also bottled 200 jeroboams (3-litre bottles), to be reserved for special occasions.

Click here and discover more!