Brewery News
10.09.2021
Lindemans Brewery Takes Another Victory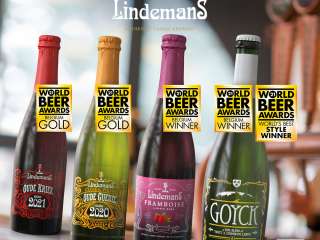 Following the national "Country Winners" announcement last month, the international "World's Best Beers" winners were announced on September 9th at the prestigious 2021 World Beer Awards final. The best beers from each country in the defined categories competed for the great honor of taking home the title of a "World's Best Beer". Lindemans Brewery and Koenraad Goddeau, brewer of Toots beer, captivated the international jury of experts with their Goyck, which received a "World's Best Style Winner" medal. The coveted WBA logo will soon adorn the labels of this distinctive beer, announcing Lindemans Goyck as the best beer in the world in the "Sour & Wild Beer" category, Sour / Wild Ale style.
Last month, two of the Lindemans brewery's beers were also awarded high honors as they were voted. "Best Beers" in Belgium at the 2021 World Beer Awards. Lindemans Framboise was named "Best Belgian Beer" in the "Sour & Wild - Framboise style" category while Lindemans Goyck won the title in the "Sour & Wild - Sour/ Wild Ale style" category. These two beers were then included in the competition for the highest honors in the final round of this prestigious brewing competition.
World's Best Sour / Wild Ale - Goyck (5.5% VOL): a blend of Lindemans Lambic, a spontaneously fermented beer with the unique characteristics and taste of Brettanomyces, and Toots, a top fermented beer from brewer Koenraad Goddeau. This beer is a unique combination of the slight acidity of lambic with the hoppy and fruity character of Toots beer.
"We are extremely proud of our victory. What great recognition for this unique and close collaboration between the Lindemans brewery and Koenraad Goddeau, "said Koenraad Goddeau along with Dirk and Geert Lindemans.
The exclusive Goyck beer is available at a selection of beer shops or on the Lindemans (https://lindemansshop.com/collections/botanical-gueuze/products/goyck) and toots (www.toots.be) webshops.
Country Winners
The Lindemans Old Gueuze Cuvée René and the Lindemans Old Kriek Cuvée René were also awarded this year, each receiving a Gold medal at the Belgian World Beer Awards .U.S.
Open Beer Championship 2021
On September 6th, the winners of the 2021 U.S. Open Beer Championship were also announced. Lindemans Kriek received the gold medal from the American and Canadian jury in the Sour / Belgian Lambic category.