Brewery News
16.02.2022
Lindemans Celebrates Bicentennial and Presents Its Second Brewery Site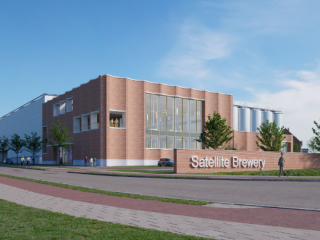 This year, Lindemans Brewery celebrates its 200th anniversary. The Lindemans family has been brewing lambic beer for six generations in Vlezenbeek, Belgium, where Joos Frans Lindemans married the local brewer's daughter Francisca Josina Vandersmissen in 1822. This event marked the farming family's entrance into the beer world. 2022 will also be an important milestone in the history of the brewery, because in the autumn the Lindemans family will open a second production site in Ruisbroek, called Lindemans Satellite Brewery. With this expansion, cousins ​​Dirk and Geert Lindemans will support future growth and usher the family business into its third century. The total investment amounts to more than 28 million euros.  
The export of Lindemans beers has increased considerably in recent years, and due to the larger production, the company needs additional storage space as it is almost impossible to expand on the historic Vlezenbeek brewery site. This new venture will also provide Lindemans with the opportunity to diversify its product portfolio. 
"In the future, we want to continue working creatively and innovatively with lambic. This will soon also be possible in combination with top-fermented beers, which we will brew in the new Lindemans Satellite Brewery in Ruisbroek," stated Dirk Lindemans, CEO of Lindemans Brewery. "No lambic will be made in the new brewery site because we do not have a a coolship at the Lindemans Satellite Brewery. The lambic production will remain exclusively in Vlezenbeek. In Ruisbroek, only top fermentation beers will be brewed. In an oversaturated market, we are not going to develop existing beer types. We are looking for new types of beers and products based on mixed fermentation. As final products, we will make blends with lambic." 
A brand-new brewing hall with a mill, fermentation room and storage area have already been built at the Lindemans Satellite Brewery, in addition to new offices, meeting rooms and a laboratory. The brewing hall can also serve as an event area.
120 hectoliters per brew 
Geert Lindemans, CEO of Lindemans said, "In the new brewing hall, we can produce up to 12,000 liters per brew. In time we can increase to six brews a day. With the current fermentation and lagering capacity, the annual production volume is about 150,000 hectolitres." 
He added: "The installation consists of two mash tuns, a filter vat, a boiling kettle and a whirlpool. The two identical mash tuns offer greater flexibility and more options for brewing. The brewing installation is equipped with dry hopping technology. This allows special hops or herbs to be added to the brew without increasing the oxygen content in the beer, thus improving the quality." 
The fermentation room contains 10 cylindrically conical tanks (CCTs) with a net volume of 720 hectolitres and 6 CCTs with a net volume of 120 hectolitres. 
There are also three yeast propagation tanks, three yeast storage tanks, a yeast waste tank and a facility for treating both well and tap water. Next to the building are two malt silos and a wheat silo of 70 cubic metres each, a draff silo and a weighbridge. 
Additional lambic storage capacity  
Geert Lindemans continued, "Part of our lambic stock will be stored in the new building. A total of 16,500 hectolitres of lambic can be stored in 33 lambic tanks of 500 hectoliters each. In this way, we are able to free up space in Vlezenbeek." 
In addition to 70,000 hectolitres of lambic in lambic tanks, the site in Vlezenbeek also currently houses 200,000 liters of lambic in 20 extra-large wooden casks, called foeders. As soon as the renovation of the historic site in Vlezenbeek is finished, Lindemans will purchase additional foeders. 
New Satellite Brewery Officially Opens in Fall 2022 
Construction of the Lindemans Satellite Brewery began in December 2020 and is expected to be completed in April 2022.  Brewery manager Jan Verzelen said, "We are doing trial runs now, which will take some time. The first beer produced with the new brewing equipment is not expected to hit the market until the fourth quarter of 2022." The official opening of the completed brewery will take place in the second half of this year. 
Focus on sustainability and energy recovery 
When designing the brewhouse, various technologies in the field of energy recovery were integrated into the concept. 
Jan Verzelen commented: "We condense the water vapor that is released during cooking in two steps. The heat is stored in an EST (energy storage tank) and can in turn be used to preheat the wort of a subsequent brew. The water used for rinsing is recovered to preheat the mash of the next brew." 
The building is partially heated with the residual heat from the boiler gases. In addition, the heat from the cooling and air compressors is also used to produce hot water and building heating. 
The wastewater is purified in a specially constructed water treatment plant. 
Employment 
Lindemans currently employs 70 men and women in Belgium and other export markets. The commissioning of the new site and the accompanying increase in capacity have already resulted in 7 additional jobs, with many more planned. 
Lindemans is still actively hiring additional employees for both brewing sites, with a focus on technicians, operators, and logistics staff. In the near future, additional support positions in fields such as administration, marketing and sales will also be posted.   

For more info